Arezzo On the Road

Arezzo, Italy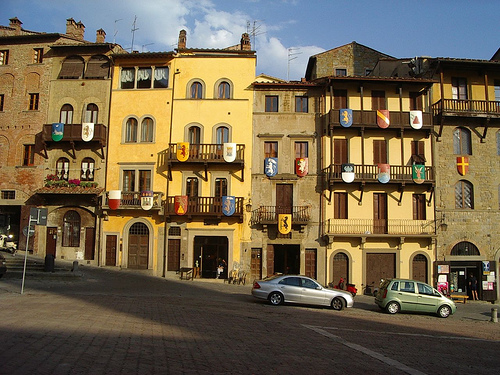 Arezzo is located in southern Tuscany, and is definitely a stop you need to make if you're exploring the Tuscan countryside. This used to be Etruscan land before the Romans arrived. Arezzo is located on a steep hill with 92,000 people and is also known for Arezzo Wave, a music festival held here in summer. The city dates back to at least the last 2nd millenium in BC.
There are plenty of Etruscan artefacts and churches to explore in a day in Arezzo, and are typical of the treasures you would expect to find in Tuscany. Episcopal Palace, re-built in the 13th century, has an interior with various frescoes. It was a place of bishops. In front there's a monument dedicated to Duke Ferdinand l de Medici (1595). Cathedral of S. Donato is a gothic church dating back to the 13th century which is unfinished but has some beautiful frescoes located inside. Santa Maria in Gradi was built in the 12th century and than was re-built in the 16th century. Palazzo dei Priori was constructed in 1333 with a court from the 16th century, frescoes and a statue of Madonna with Child. Gaio Cilnio Mecenate Archeological Museum and Civic Museum of Modern and Contemporary Art are two nice museums filled with Etruscan artefacts. There's also Palazzo del Popolo, the ampitheathre and so many other options.
You can also expect the same fabulous, high quality Tuscan food that the area is known for - simple and earthy, great fresh vegetable dishes and the region's quality pecorino cheese. The area is particularly known for its Chianti wine, grapes cultivated in the area since Etruscan times.
Nightlife in Arezzo includes bars, pubs and clubs, but before you go out you will find that the locals like to enjoy their dinner, savoured slowly. They might have a three course meal with wine, while sitting and chatting with friends. Usually after walks are ideal for the perfect temperature and a gelato. Afterwards people head off to the bars and dance places such as Velvet Underground or jazz places such as Club Arezzo. To book a Hotel in Arezzo, please click here:
Arezzo Hotels
To book a Hostel in Arezzo, please click here:
Arezzo Hostels