Athens On the Road
Athens, Greece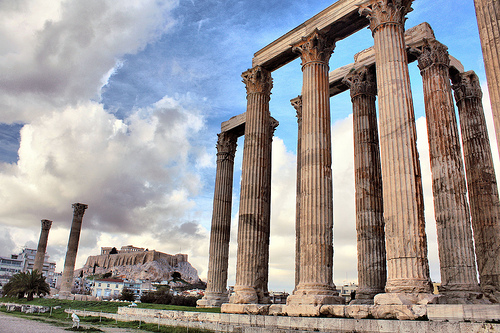 With well over a hundred inhabited islands and a territory that stretches from the south Aegean to the Balkan countries, Greece offers enough to fill months of travel.
The historic sites span four millennia, encompassing both the legendary and the obscure, where a visit can still seem like a personal discovery.
Beaches are parcelled out along a convoluted coastline equal to France's in length, and islands range from backwaters where the boat calls twice a week to resorts as cosmopolitan as any in the Mediterranean.
"Athens is amazing - walk up Lycabettus first, through up-market Kolonaki, follow the ancient marble steps through olive groves until you reach the monastery that overlooks the city.
You'll see the whole city laid out in front of you and beyond to the islands.
After you've got your bearings, come back down to the old Plaka area and visit the Acropolis, the Ancient Agora (where Plato taught), the Temple of Zeus (one of the 7 Wonders of the Ancient World) and the Tower of the Winds.
Spend lazy evenings in our tavernas, ouzo and octopus are still the cheapest treats on earth or watch the Acropolis light on our roof top bar - best cocktails in town." To book a Hotel in Athens, please click here:
Athens Hotels
To book a Hostel in Athens, please click here:
Athens Hostels