Buenos Aires On the Road

Buenos Aires, Argentina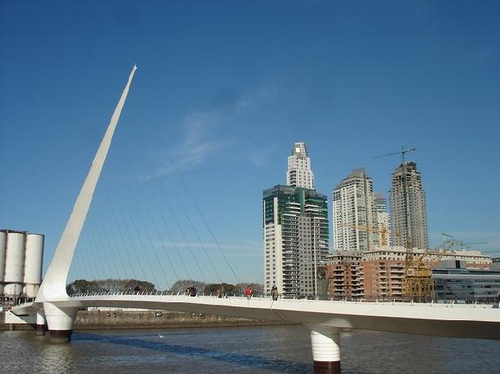 More European than South American, the heart of Buenos Aires boasts bustling streets, long avenues, old-time cafes and stylish restaurants. Wander cobbled streets, marvelling at faded architectural glories and colourfully painted metal houses. Talk world politics and fútbol in atmospheric old cafes. Tuck into one of the famous Argentinian steaks to power a long night's partying.

HIGHLIGHTS

The Cementerio de la Recoleta is one Buenos Aires' highlights, located in the most expensive area, with high walls surround this necropolis where generations of Argentina's elite rest in ornate splendor, plenty of statues, detailed marble facades and earthy-smelling sarcophagi. The most visited grave here is that of the famous Evita's.

Plaza de Mayo (May Square) is one of the most popular squares in Buenos Aires, on the east of it you can see the presidencial palace, the Casa Rosada (Pink House). From the heights of its lofty balcony, Juan and Eva Peron, Menem and other politicians have addressed the throngs below. Other major buildings around the plaza include the Cabildo and the Catedral Metropolitana (Metropolitane Cathedral), a religious symbol and major historical site.

One of the Argentina's arts crown was the Teatro Colon (Colon Theatre), opened in the beginnings of the 20th century, which is used for opera, ballet and classical music. You can take a guided tour around the theatre's basement workshops, rehearsal rooms, stage and seating areas.

The old neighborhood of La Boca is characterized by non-typical colourful small houses. You can take a walk around this old area and watch see couples dancing a lively tango in the streets

Far away from the main city you can find the Tigre, a beautiful neighbourhood where you can relax and enjoy a day along the river.

For sport? If you go to Buenos Aires, you can't lose the exciting experience of attending to a football match, and much better if you can see River Plate vs Boca Juniors (where Diego Maradona once played!!).

Do you like dancing? You are in the city of tango, so you try learning this sensual dance. The city is full of old cafes where you can try out your new skills.

And when the night arrives, get ready!!… Buenos Aires is the perfect city to go out. You can choose between different areas to drink, dance and eat….You can find good places open at any time, every day of the week… Buenos Aires is alive 24 hours a day!!!!!