Cagliari On the Road

Cagliari, Italy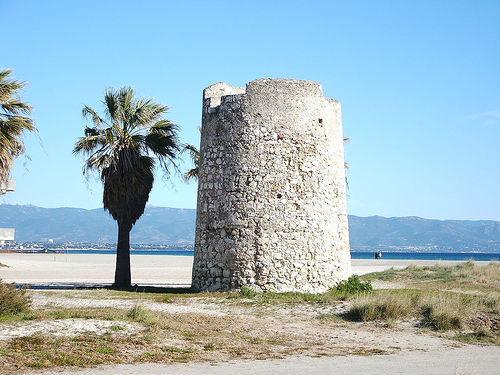 In Sardinian dialect, Cagliari means castle. It is now the capital of Sardinia with over 160,000 people. Cagliari is a remarkable city that has withstood pirate attacks, WWll bombings and various invasions since the 7th century of BC when it was founded by the Tyre. After the Tyre, this island was taken over by the Carthage and later the Romans in 200 BC. There are still numerous sights to explore - from old castles to beautiful churches. The homes are mostly made of limestone, as well as most structures such as the amphitheatre which have weathered well and are still in use. Cagliari is located on a hill that overlooks the sea, and is surrounded with swamps and forests. When hiking through the woods you can sometimes spot a deer, wild boar or other wildlife. The climate is perfect for hiking, swimming and just wandering through the streets of town.

White limestone towers and the walls which are now known as St. Pancras Tower and the Elephant Tower can be seen walking along the streets. Spend an afternoon exploring the Sardinian Archaeological Museum, which shows artefacts dating back from the Nuragic civilization, along with pre-classical art artefacts. Make sure that you also check out the Basilica of San Saturinino, a 5th Century monument and the Sanctuary of Our Lady of Bonaria, a convent with a museum, completed in 1330. Then there's the Roman Amphitheatre which still holds operas and concerts during the summer and the Castle of St. Michele.

As for resting your feet, the beach and Monte Urpinu are perfect spots for either enjoying the sea or the lakes. The 13km stretch of beach near Cagliari is famous for its white sand where you can enjoy various water sports like kite surfing, sailing and swimming. Sardinia is, after all, known for its spectacular beaches and coves. At the end of the day, Sardina is an island, and abundant in fresh seafood. Try local breads like su coccoi and su civraxiu or panadas, a pie with vegetables, meat or fish. In the summer there are ripe cherries, especially in June when there's even a cherry festival. Sardinia may be part of Italy, but don't be surprised if the language isn't the only thing unfamiliar. Local culinary specialties are definitely different from what you'll find on the mainland - but in Sardinia, like all of Italy, there is definitely a strong passion for food.

In the night, after a enjoyable long dinner the locals tend to stroll through Piazza Yenne where they people-watch. Open air discos such as Lido and D'Aquila are great to watch the night sky, as you dance along to the beats of the foreign country. There are also some nice open air bars such as Bastione San Remy and Libarium. If you'd like to try something other than dancing and the bars, try the Amphitheatre for the evening performances.