Cinque Terre On the Road

Cinque Terre, Italy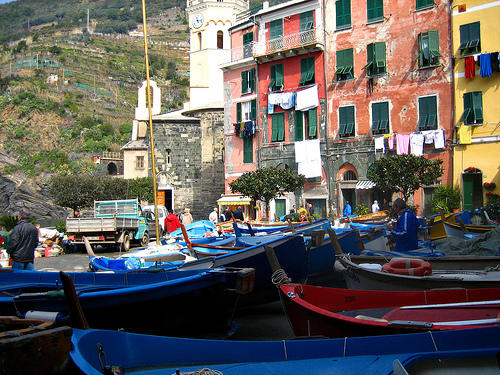 If you are in Italy you can't leave the country withouth visiting Cinque Terre … One of the most spectacular stretches of Ligurian coastline is extended one hour south from Genoa to La Spezia; the italian riviera has some of the most beautifull and picturesque coastline I have never seen, and definivetly most famous italian resorts.

But …what is Cinque Terre like? Many people doesn't know about this incredible place. Five little villages built on Mediterranean hillsides, splendidly brushed in sun-washed colors...Monterosso, Vernazza, Corniglia, Manarola and Riomaggiore.

Cinque Terre represents one of the best preserved natural areas of the Mediterranean...

The National Park was set up as a means of promoting and safeguarding the landscape of the Cinque Terre, an area wich structure have been modified by human activities throughout the centuries.

The early inhabitants of the Cinque Terre were forced, not by tyrannical overlords, but by the desperate need to create agricultural space in a hostile environment, to substitute the original vegetation growing on the steep hillsides with a close-knit network of terraces based on dry stone walls for planting vines.

A very good way to visit this area is to hike along the Sentiero Azzurro (the Blue Trail). ..18 kilometres!!!! It can be covered in about 5 hours, even if parts of it can be quite challenging as it makes its way up steep hillsides, with seemingly endless flights of steps carved into the rock.

If you want to take your time, stopping to admire the views and exploring the towns along the way, plan on spending a couple of days. But, a good advice...Take good slippers with you!!!

The last stretch of the trail from Manarola to Riomaggiore is the most famous : the "Via dell'Amore" (Love Lane) is a paved walkway crowded with strolling lovers… an ideal place to watch a romantic sunset!