Kota Kinabalu On the Road

Kota Kinabalu, Malaysia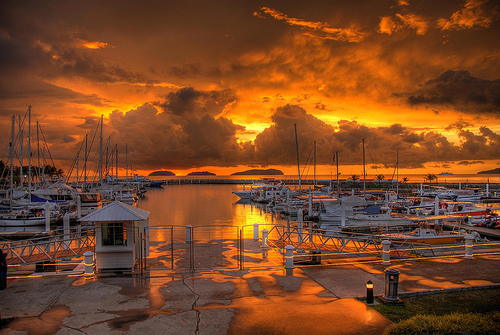 Kota Kinabalu, in South China Sea used to be named Jesselton, but after it was completely rebuilt, it as also renamed to mark the new city. This city now has over 300,000 people living in its city limits.

Kota Kinabalu has various points of interest. I would start out with looking at one of the oldest buildings that was one of the few to survive WWll. The Atkinson Clock Tower used to help navigate ships into the city. After exploring the tower, you should check out the town's Mosque. The Mosque is beautifully decorated, with a white exterior with a touch of blue and gold details. Kota Kinabalu City Bird Sanctuary is an amazing place to learn about different bird species, most of Northern Asian origin.

For museums, the State Museum and Sabah Musuem seem to be the most popular. At the State Museum there are many artefacts from skulls to pottery. The Sabah Museum is close to the city centre with about 40 acres of jungle. There is a Botanical Garden, Heritage Village and more to see.

Other places you may enjoy include:
+ Kinabalu National Park: This park holds Mount Kinabalu that extends past 4,000 meters high. Mount Kinabalu is the highest peak in South East Asia, with some great look outs and beautiful scenery.
+ Poring Hot Spring and Canopy Walkway: The hot spring is known to be therapeutic with many minerals that take away soreness. The canopy walkway is a stretch of 40 metre trees stretching towards the sky.
+ Tunku Abdul Rahman Park: A national marine park consisting of 5 different islands: Gaya, Manukan, Mamutik, Sulug and Sapi. There's plenty of marine life, flowers and coral reefs. This is the ideal place to go snorkelling, diving, swimming and lying out on remote beaches.
+ Signal Hill Observatory: It's a bit of hike up, but the view is well worth the effort for the view over the city and the islands out to sea
+ Tanjung Aru Beach: This beach is a long stretch of white sand and palm trees that run along the China Sea. Besides getting a great tan and enjoying the sun you can go water skiing or scuba diving. Along the beach you can find some great fresh seafood restaurants.

For the evening there is the Kota Kinabalu waterfront where you can start off with a drink and snack while watching the sunset. For the later nightlife, I would suggest Cocoon. This funky place has a good vibe and runs with a pretty good crowd through out the week. Rumba is the most popular, (if not the only place) to go to enjoy some salsa dancing and Latino music. Beach Street, next to Gaya Street has a number of bars, such as the Sugar Bun, BB Cafe and Reef, but they tend to close down at around 2 am.