Las Vegas On the Road

Las Vegas, USA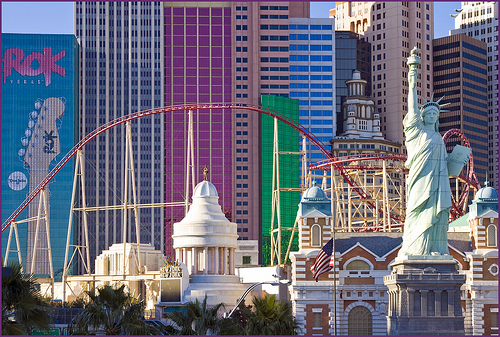 America's playground is really also the playground to the world. Las Vegas is at the heart of the USA - a place to indulge fantansies, toy with vices, lose reality and then come back to it with everything forgiven and forgotten. A city of split-second sensations: a Disneyland for adults, nowadays it's almost a Disneyland for children as well. Eat, drink, dance, rise, fall, but above all, be entertained.

Contrary to popular opinion, Las Vegas is not an endless mass of casinos and hotels from start to end. The images that grace our TVs and movie screens are not the whole city, just one street: Las Vegas boulevard. But if you're staying just a few days and have booked yourself into the center of the action, expect this one street to be your complete Las Vegas reality.

The designers of this city should get honorary degrees in human psychology. The airport is in the center of the city, directly next to Las Vegas boulevard, so as soon as you arrive, you're whisked away by taxi to the heart of the action, never missing a beat.

Inside many of the hotels and casinos, you find vast shopping centers with ceilings that resemble the sky. Throughout the day, the "sky" grows brighter then darker with the passing hours, mimicking the cycle of day and night every 90 minutes. Their goal is to create a separate world, not just an imaginary space, but also an imaginary time.

Lights, noise, volcanoes, carnival, rollercoasters, helicopters, celebrities, fountains, and trains. All the world reproduced, like pictures from a magazine. Where reality meets videogames. An Eiffel Tower exaclty like the one in Paris, only a third of the size. A black pyramid projecting light into outer space. Venice: brand-new and immaculate, bearing no signs of history. Visit the whole world out of context: it'll make your head spin! Add in a few drinks and you won't even know the difference.

And the unimaginable buffets. Enough food to feed an army or small country, passing through the stomachs of Las Vegas tourists each and every day. Food from all over the world: from the best seafood and international cuisine to the late-night one dollar breakfasts. Stroll the vast aisles of slot machines and video-poker, drop a few coins, and you're being offered free cocktails.

So come healthy and in good spirits. If you're good with cards, it might end up being a great trip. If you're not, bring a responsible friend. And if you're simply an admiring tourist, there to observe the city in all its insanity, splendor and excess, expect to be amazed. There's no city like it. You be the judge.