San Francisco On the Road

San Francisco, USA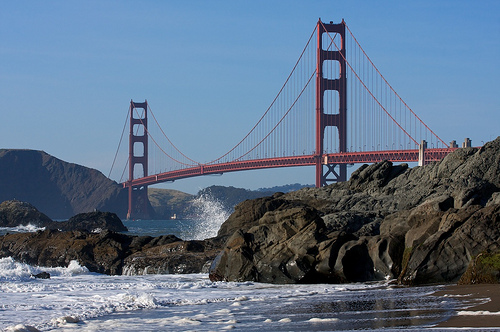 A city of incredible beauty, there are few places in the U.S. that rival San Francisco. Standing at Coit Tower or the top of Lombard Street, the city spreads out in every direction: thousands of buildings rising and falling like waves along the hills. And beyond the sea of buildings, the real sea surrounds the city, forming San Francisco Bay. Golden Gate Bridge to the north, the Bay Bridge to the east, leading to Sausalito, Berkeley, and Oakland, all stretching as far as the eye can see. On some days, just at sunset, a soft pink light falls across the entire city, reflecting from a thousand windows.

More than just a beautiful city, San Francisco is also rich in culture and ethnic diversity. Once upon a time, Beats such as Allen Ginsberg and Jack Kerouac experimented with radical new styles of literature in the bars and cafes of North Beach. Years later, Haight-Ashbury would become the new heart of the counter-culture, drawing hippies and musicians from all across the country. Even today, the people of San Franciso are known for their liberal tastes, buying more books and wine than any other city in the U.S.

San Francisco has a long history of immigration, with a large population of Asians and Europeans. Consider Chinatown, which hosts some of the most authentic and fascinating Chinese shops and restaurants of anywhere in the U.S. Nearby North Beach, a long-time home for Italian immigrants, is one of the cities most charming districts and certainly the best place for pizza.

San Francisco is a modern city, with its many breathtaking buildings and bridges. If you're not convinced, just drive across the Bay Bridge toward San Francisco at night and take a glimpse at the glittering skyscrapers of downtown. But San Francisco is more than just a modern metropolis: it's also home to a wide variety of natural attractions. From parks to beaches to nearby mountains, there are countless places to surf, ski, roller-blade, or simply have a picnic.

In many ways, San Francisco is the best of California. But it's also so much more than just another city in California. It's a world city in the truest sense.