San Gimignano On the Road

San Gimignano, Italy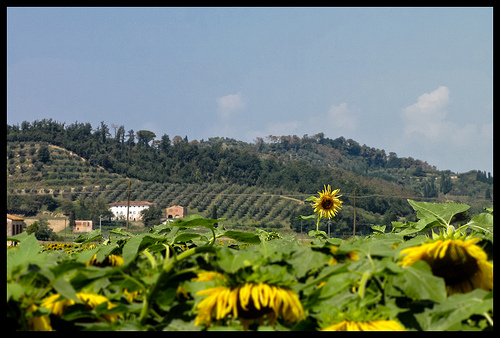 San Gimignano is a small medieval town in the Tuscan country by the Elsa River. It was founded by the Etruscans in the 3rd century BC and is said to be named after a Bishop of later ages who had saved the town from barbarians. Now there are various paintings of this rich history which adorn the churches and monasteries. The town is located right next to a famous vineyard, Vernaccia, where wine production dates back to around the 13th century.

The sights that are most important to see would be the Collegiate and Sant'Agostino Cathedrals which house a wide series of artworks from famous Italian Renaissance artists. There are the 13 high towers made of stone from when richer families liked to flaunt power and wealth. For a quirky afternoon, there's the Torture Museum which luckily only shows and tells the story of old torture methods.

The fertile Tuscan countryside surrounding San Gimignano is rich in lovely vineyards and olive groves - with the products freshly available in town for you to enjoy. There are also the mushrooms and truffles that are gathered from nearby hills. Find the culmination of these products on your meals at lunch and dinner - and you'll fall in love with Italian cuisine.

This small town also focuses on meats such as rabbit, boar, pheasant, chicken and tripe. Often the meat is prepared with tomatoes and spices which are called Scottiglia. There's also the fish dish called caciucco. San Gimignano is best known for the local specialty, pici, a pasta dish with mint-leaf pesto. For dessert there's gelato and pinolata which is made of cream custard and pine nuts.

The nightlife here is a bit more relaxed (who would want to rave a night away with a tummy food of that delicious Tuscan cuisine!). Instead, explore the town at night - take part in the Italian tradition, the passegiata around the main piazzas.