Seville On the Road

Seville, Spain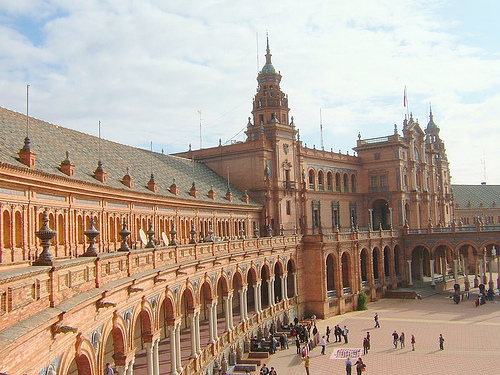 Set a little ways inland, Seville is located in southern Spain with the Guadalquivir River running through it. Orange trees are scattered throughout the city, while the main city centre is a maze of old winding roads.

Seville has been an important city for generations – once a seaport, an important centre for the baroque arts and now out for its 300 days of sunshine. It has lovely beaches, making it a popular place to lounge in the sun. Many conquerors have come through the city and you can still see evidence of Moorish and Roman influence.

The Spanish are famous for their bullfighting. The children tend to practice in the parks, (with bikes, not bulls!). Some of these kids grow up as adults to enter a stadium – if you have the stomach for it, spend an afternoon in a bull fighting ring. The red cape flaps as the bull charges in the Plaza de Toros. However, if you can't stand to watch then at least walk the stadium and the museum when its empty. There are of course various other museums which might spark your interest. There are art galleries are scattered throughout the city but, I'd recommend the mosaics at the Museum of Archaeology. There's a Sunday market in the Plaza del Museo which is next to another wonderful museum called Museo de Bellas Artes where you can find entertaining street artists. For a couple other sights I'd try the Alcazar and the Cathedral. This area has gardens and the Parque de Maria Lusia. However, don't forget about the coast and the fact that you can rent a paddle boat, kayak or just walk along the Guadalqivir River.

If you want to have a relaxing vacation try going to Aire de Sevilla which has various baths and offers massages – on a historical site for Arab baths.

For when you get hungry you should sample the local food. The typical cuisine is of course great, fresh and good enough to make your mouth water – it is after all Spanish. Here you'll find local specialities on tapas, and torrijas (like french toast). For dessert there's shortcake made of almonds and sugar or pestinos which are honey coated sweets. The seafood is fresh from the nearby river and the cheese and wine come from the nearby countryside.

For nightlife I'd start off with a wonderful long meal, usually on the later side of things and then head out to the many things on offer from bars, pubs, concerts or clubs. Try the bar at Cerveceria International, which offers an endless list of beers and so many brands that it's impossible to know them all. The Spanish are well known for their passion for dancing all night to salsa, house, techno or rock … well, any type of music really. Afterwards, take a walk along the shore to see the sunrise.