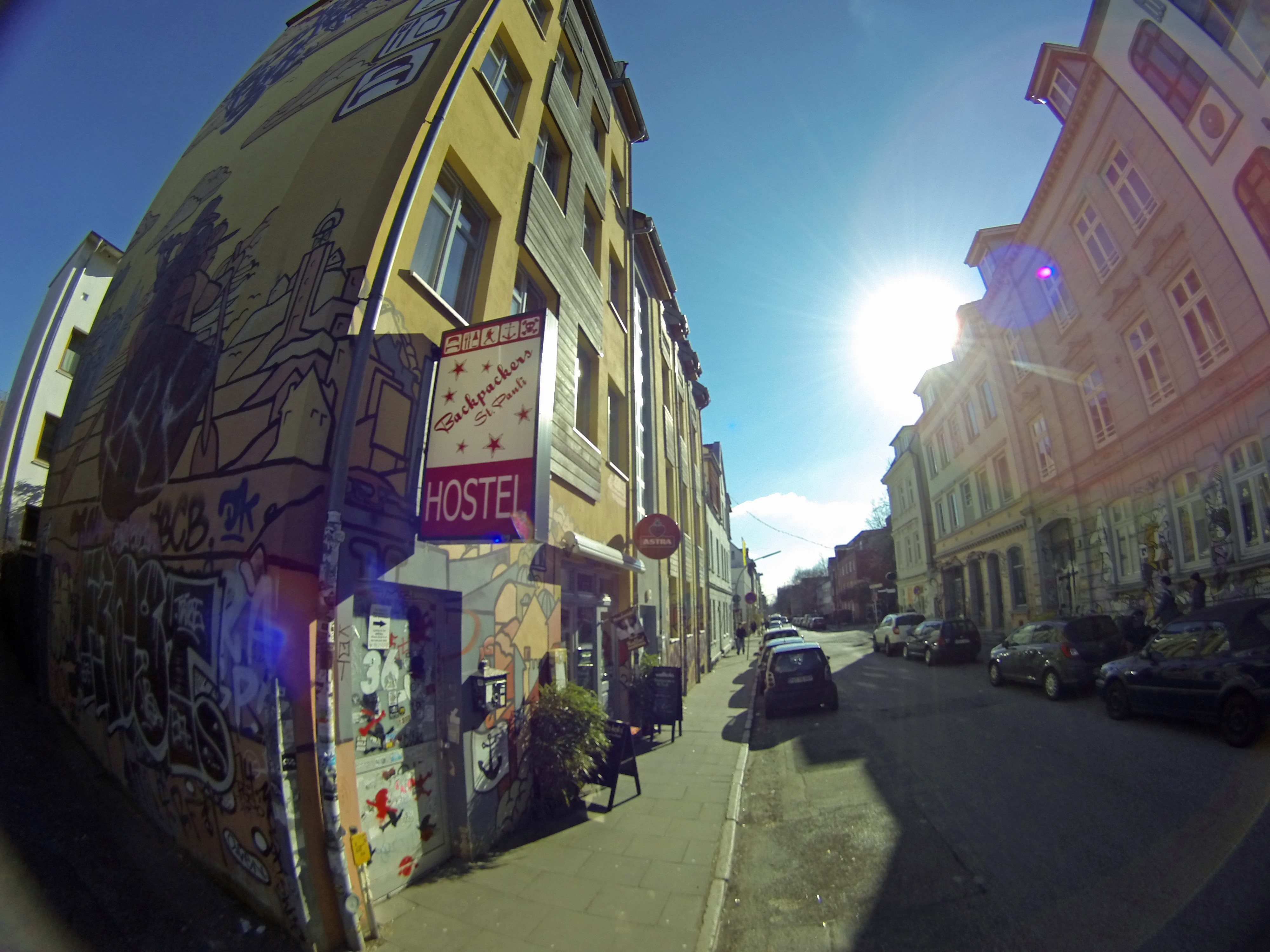 Backpackers St. Pauli Informations
100% St. Pauli - Backpackers St. Pauli

We are located in the residential area of the quarter.
Don't worry it is very close to Reeperbahn and Schanzenviertel where you find good restaurants, bars, clubs and venues.

The area round the townhall/ lake Alster you'll reach easily with the Metrobus
Bar


BBQ


Bicycle Hire


Bicycle Parking


Breakfast Not Included


Cable TV


Cafe


Common Room


Fax Service


Free City Maps


Free Internet Access


Free WiFi


Foosball


Hairdryers For Hire


Hot Showers


Housekeeping


Kitchen


Linen Not Included


Lockers


Luggage Storage


Outdoor Terrace


Reading Light


Towels for hire
How to find usPrintE-mail

From Hauptbahnhof (central Station) or ZOB (Central Bus Station)
Walk to Moenckebergstrasse (take exit 'Spitalerstrasse / Moenckebergstrasse) and get on the Bus No. 3 towards 'Trabrennbahn Bahrenfeld' or 'Schenefelder Platz'. The 9th stop is 'Bernstorffstrasse'. Change side of the road (pharmacie on the corner) and walk down Bernstorffstrasse.
From Underground Stations Landungsbruecken or St. Pauli
U3 in direction Barmbek till station Feldstrasse change there for bus No. 3 in direction Bahrenfelder Trabrennbahn/Schenefelder Platz till Bernstorffstrasse

from Hamburg Airport
S1 in direction 'Wedel' till 'Reeperbahn' Exit 'Nobistor', take the right stairway and turn right into 'Holstenstrasse'. After 30m cross traffic 'Holstenstrasse/Simon-von-Utrecht-Strasse' Follow 'Kleine Freiheit' which continues as 'Bernstorffstrasse'.
-Harbour/Port -Reeperbahn/Redlight District/Party Area -Millerntorstadion/ Soccerstadion -Exhibition Centre -Schanzen- & Karoviertel
Please note that due to earlier experiences we take a safety deposit of 150€ for bookings of 6 guests or more. We accept for check in only a personal ID, passport or drivers license. Guests under 18, travelling alone have to show a letter of agreement, copies of parents passports and a contact telephone number for the case of emergency. Please note that we have a cancellation policy of 24 hrs before arrival date Important: When you are checked in - there is no curfew but for check-in our reception has the following opening times: 08:00 - 00:00 April-November 09:00 - 22:00 December-March If you have a delay – call us please. Otherwise we have to cancel the beds at least after 1 hour and charge you as a no show. Check out time 12:00, if you are oversleeping we charge 5 € every 30 Minutes (We think 12 is fair, so be fair to us and give us the chance to clean properly till the next check in. THANK YOU!) PLEASE NOTE: Bed linen is not included and will be charged with 3€ per set. If you are staying 3 nights or more, bed linen is included. Sleeping without bed-linen, using own bed-linen or sleeping bags is not allowed. Please understand that sleeping bags will be stored separately and handed back at departure.
Informations about Backpackers St. Pauli
100% St. Pauli - Backpackers St. Pauli

We are located in the residential area of the quarter.
Don't worry it is very close to Reeperbahn and Schanzenviertel where you find good restaurants, bars, clubs and venues.

The area round the townhall/ lake Alster you'll reach easily with the Metrobus within 20 minutes.

Bedlinen is not included and we charge 2.50EUR for a set. If you are staying 3 nights or more, bedlinen is included Own bedlinen, sleeping without our bedlinen or sleepingbags are not allowed. Experienced Travellers know why.

If you want breakfast, you have 2 options: You can buy breakfast at the hotelbar or you help yourself in our lounge/common room in the basement. There you find also the TV, a fridge and our small cooking facility.

You'll find laundry math and grocerystore after a short walk of 5 minutes.

For detailed informations about Hamburg, St. Pauli and us our staff is happy to help from:

09:00 a.m. - 09:00 p.m.(november-april)
and from
08:00 a.m. - 00:00 a.m. (april-november)

WIFI is free of charge, if you don't have a laptop or netbook, feel free to use our computer at the bar.

Come to St. Pauli and get in touch with alternative life style. Stay at Backpackers St. Pauli and enjoy individual and familiar atmosphere.

Backpackers St. Pauli - make yourself at home.

See you soon...

Just some important things:

-if you don't arrive in time you mentioned in your reservation, we have to cancel the beds at least after one hour. so please call us when you have a delay.
- please pay cash at arrival, we do not accept credit cards.
-no curfew (because you get codes to enter the house)
-check out time 12:00
-no sleeping bags or private bedlinen allowed
-Deposit for locker key 5 EUR