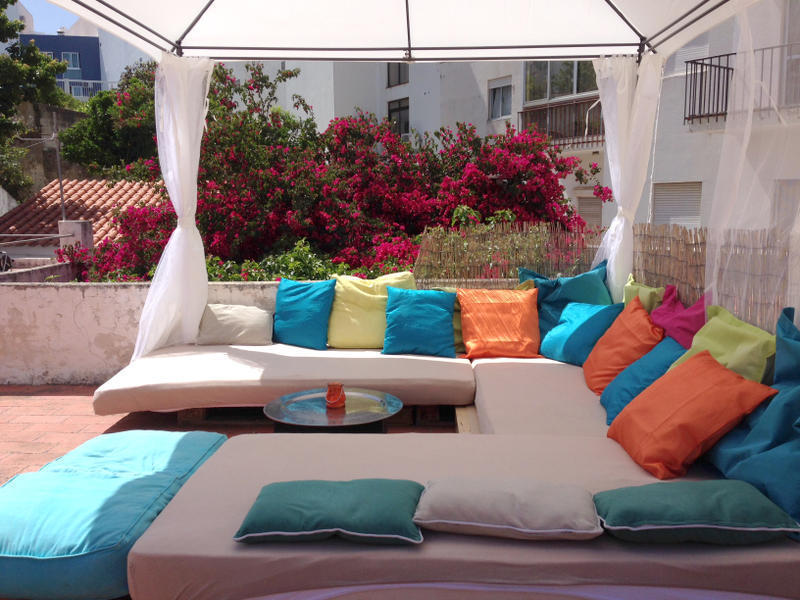 Orange Terrace Hostel Informations
Orange Terrace is a charming and fun Hostel located right in the city centre (but quiet side road) with cafes, bars, restaurants, clubs, supermarkets... just 200 meters from the beach of Albufeira.

Everything you need for a amazing holiday is just walking minutes away.
The hostel has a nice pat
From Albufeira Trainstation:

Take a local bus (GIRO) Orange Line at Bus Terminal 15 (Price 1,40 Euro) that goes every 30 minutes. First buses are going at 7 a.m. and the last at 11 p.m. This bus will take you to the main busstation in Albufeira.

From Albufeira Main-Busstation:

NOTE: When you arrive by EVA bus from Lisbon, then you can get off the bus at the old town directly (see directions to hostel below). Coming from Lagos or Faro by bus you will arrive at the main busstation.

Busses from the main busstation to the centre are going every 30 minutes starting from 7 a.m and last bus at 11 p.m. Take the Red Line Bus at Stand 18 to the centre. You get off at Old Town (centro antigo) and walk into the centre. After the sand sculptures on the right you keep on going to the right, going up the stairs, up the road (passing Apartamentos Regina) and when the road splits you go left and after 20 metres the hostel is on your right.
Right in the city centre of Albufeira, just 200 metres to the beach. Walking distance to Restaurants, Bars, Clubs, small Supermarkets, Souvenir-Shops, Cafes, etc. Day and Night, Albufeira city centre has always something to offer.
Cancellation Policy: 2 days before the arrival. If you fail to cancel in time we will charge you the 1st nights stay. Earliest Check In: 2.00 pm (14:00) Latest Check Out: 11.00 pm Our reception is open 24/7 (except May and October) Method of Payment upon the arrival: Cash or Card. Breakfast is included. Taxes are included. Age restriction: No children. Only 16+ - Each guest must provide a Valid ID upon Check In. - A refundable EUR 10 key deposit is required upon check-in. - Our rates includes breakfast & fresh linens. Towels can be rented for 2 Euros for the time of your stay. - Free public parking is possible at a location nearby (reservation is not needed). - No Show: An individual or group will be charged full amount of stay. - We are not responsible for loss, damage or theft of cash, jewelry or other valuables left unattended in guest rooms or the hostel premises during your stay. - We are not responsible for any drug or alcohol-related injuries. - No alcoholic drinks brought from outside are allowed in the hostel. You are able to buy drinks like beer, cider and wine for a very fair price. No spirits. - Management reserves the right to either ban or ask a guest who is acting highly inappropriate to leave the premises without a refund. - Should your groups reservation consist of more than 10 beds, we reserve the right to charge your card in full prior to the arrival. - Orange Terrace Hostel reserves the right to hold guests liable for any property damage guest may cause during their stay. - Our age restriction is 16+ (no children are allowed) Alojamento Local: 26292/AL
Informations about Orange Terrace Hostel
Orange Terrace is a charming and fun Hostel located right in the city centre (but quiet side road) with cafes, bars, restaurants, clubs, supermarkets... just 200 meters from the beach of Albufeira.

Everything you need for a amazing holiday is just walking minutes away.
The hostel has a nice patio, a spacious roof terrace and a small garden with orange trees.

We are opening the first time and hope to have you as our fist guests.

Please note:

Cancellation Policy: 1 day before the arrival

Check In: 1.00 – 10.00 pm
Check Out: 11.00 am
Please contact us beforehand if you wish to arrive outside of these hours.

Method of Payment upon the arrival: Cash only!

Breakfast is not included.
Taxes are included.