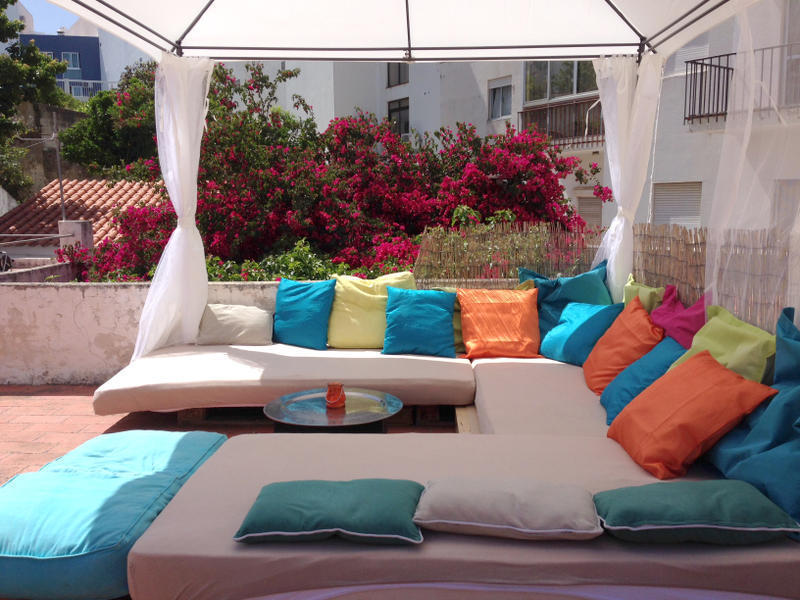 Orange Terrace Hostel Informations
Orange Terrace is a charming and fun Hostel located right in the city centre (but quiet side road) with cafes, bars, restaurants, clubs, supermarkets... just 200 meters from the beach of Albufeira.

Everything you need for a amazing holiday is just walking minutes away.
The hostel has a nice pat
From Albufeira Trainstation:

Take a local bus (GIRO) Orange Line at Bus Terminal 15 (Price 1,40 Euro) that goes every 30 minutes. First buses are going at 7 a.m. and the last at 11 p.m. This bus will take you to the main busstation in Albufeira.

From Albufeira Main-Busstation:

NOTE: When you arrive by EVA bus from Lisbon, then you can get off the bus at the old town directly (see directions to hostel below). Coming from Lagos or Faro by bus you will arrive at the main busstation.

Busses from the main busstation to the centre are going every 30 minutes starting from 7 a.m and last bus at 11 p.m. Take the Red Line Bus at Stand 18 to the centre. You get off at Old Town (centro antigo) and walk into the centre. After the sand sculptures on the right you keep on going to the right, going up the stairs, up the road (passing Apartamentos Regina) and when the road splits you go left and after 20 metres the hostel is on your right.
Right in the city centre of Albufeira, just 200 metres to the beach. Walking distance to Restaurants, Bars, Clubs, small Supermarkets, Souvenir-Shops, Cafes, etc. Day and Night, Albufeira city centre has always something to offer.
Cancellation policy: 2 days (in some places its correct, in some it says 1 day still) Age restriction: No Children. Only 16+ Earliest check-in: 14:00 Latest check-out: 12:00 Payment types accepted: cash and credit and debit card (some places it still says no credit cards accpted)
Informations about Orange Terrace Hostel
Orange Terrace is a charming and fun Hostel located right in the city centre (but quiet side road) with cafes, bars, restaurants, clubs, supermarkets... just 200 meters from the beach of Albufeira.

Everything you need for a amazing holiday is just walking minutes away.
The hostel has a nice patio, a spacious roof terrace and a small garden with orange trees.

We are opening the first time and hope to have you as our fist guests.

Please note:

Cancellation Policy: 1 day before the arrival

Check In: 1.00 – 10.00 pm
Check Out: 11.00 am
Please contact us beforehand if you wish to arrive outside of these hours.

Method of Payment upon the arrival: Cash only!

Breakfast is not included.
Taxes are included.