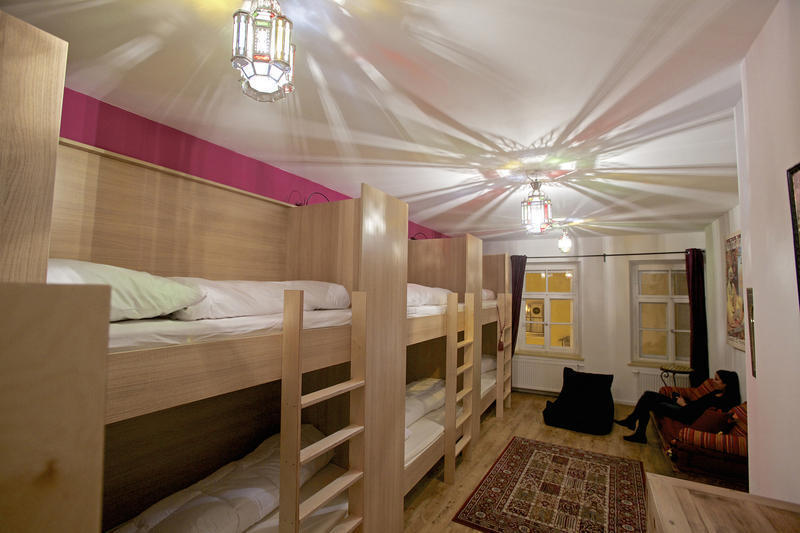 Old Kings Fuessen Design Hostel Informations
Welcome to the Old Kings Family - our small and lovely Hostel in the beautiful mountain town of Füssen. Inspired by our King Ludwig II, we are running Füssen's first design hostel situated in the heart of the historical part of the town, which is just a 5-minute walk from the train station.
Internet
Bicycle Hire
Book Exchange
Breakfast Not Included
Common Room
Free City Maps
Free Internet Access
Free WiFi
Hairdryers
Hot showers
Internet Access
Kitchen
Laundry Facilities
Linen Included
Lockers
Luggage Storage
Meeting Room
Reading Light
Tea & Coffee Making Facil
Towels for Hire
Washing Machine
Child Friendly
Credit Cards Not Accepted
No Curfew
Non Smoking
Our house is at Franziskanergasse.
When you come from the train station and walk down the pedestrian area (Reichenstrasse) you will head to the old castle city hall.
Right before take a turn to the left into the Hutergasse which will lead right into the Franziskanergasse (at the beginning there's a small tobacco shop at the corner).
The second house on the right painted in yellow is our Old Kings Hostel.

We will be happy to welcome you. If you have problems in finding us, just give us a ring and we will help you!
The hostel is situated in the heart of the historical Old Town of Fuessen, only a five-minute walk from the train station. Our house is at Franziskanergasse, just around the corner of the old castle city hall.
PLEASE NOTE: Upon request, you need to provide your full credit card details and a valid address directly to the property. Our cancellation policy is free cancellation up until 7 days before arrival. Our reception is open daily from 8.00 to 10:00 and from 16:00 (4:00pm) to 21:00 (9:00pm). Check-in is from 16:00 to 21:00. Check-out is at 10:00. Method of payment: cash only. Breakfast is not included, but is offered for 6.80Euros. A tourist tax of 2.20 Euros per person is not included. We are a located in the middle of the medieval old town with a number of residential neighbors, and it is important for us to be respectful with regard to noise—we are not a party hostel. But anyway, who needs big parties inside with incredible natural surroundings like Fuessen has? :) Thank you in advance for your understanding!
Informations about Old Kings Fuessen Design Hostel
Welcome to the Old Kings Family - our small and lovely Hostel in the beautiful mountain town of Füssen. Inspired by our King Ludwig II, we are running Füssen's first design hostel situated in the heart of the historical part of the town, which is just a 5-minute walk from the train station. Füssen's castle, the famous sights in the old town, bars and restaurants are only a stone's throw away.

We have renovated a more than 500-year-old building which now meets the needs of international backpackers. Enjoy our relaxed family atmosphere, meet up with other backpackers, discover the surrounding lakes and mountains and visit King Ludwig's famous castle Neuschwanstein. Our Team will be glad to give you loads of local information about the area. As backpackers we know how a good hostel has to be like.

Take a breath of history in our small house and join the welcoming family atmosphere at Old Kings, our exclusive and individual hostel with only 22 beds. Every room is decorated and furnished in a different antique- or retro-fashion majestic style. The classic ambience is surely going to give you the feeling of being taken back to the good old royal days. Clean, well-kept and fully-equipped facilities are something we are proud to present to you.

Please note:

Cancellation Policy: 2 days before the arrival

IMPORTANT:
Our reception hours are from 7.45-12am and from 4-9.15pm - please advise us, if you plan to arrive outside these opening hours.
Check In: 4.00 pm to 21 pm (if you come earlier or later simply let us know)
Check Out: 10.00 am

Method of Payment upon the arrival: Cash only!

Breakfast is not included. A regional breakfast can be booked additionally.
A tourist tax of 2.20 EUR per person is not included.

Our Rooms are:
- Mad King Ludwig styled room with canopy bed for 2 persons [Basic Double Bed Private (Shared Bathroom)]
- Inka Empire Room with loft bed for 2 persons [Double Bed Private (Shared Bathroom)]
- United Kingdom twin room for 2 persons with 2 seperate beds [Standard Twin Private (Shared Bathroom)]
- King of Africa Dorm for 8 persons with individually carpented bunk beds in african style [8 Bed Mixed Dorm (Shared Bathroom)]
- Prince of Persia Dorm for 8 persons with individually carpented bunk beds in the style of orient [Basic 8 Bed Mixed Dorm (Shared Bathroom)]