Bali On the Road

Bali, Indonesia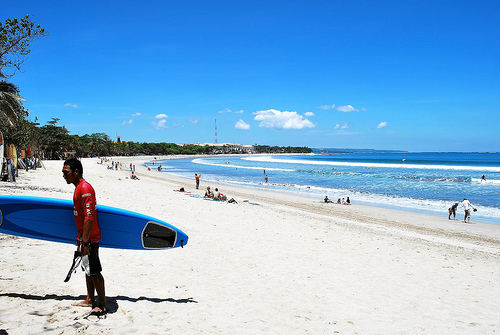 Looking for a beautiful place, with lots of fantastic sights se explore, then come to Bali, this nice little tropical island, that have something for everyone.
Going to Bali you will experience a unique blend, of all kinds of tourist facilities such as beautiful, sandy beaches, the possibility of surfing and diving, seeing a volcano, going shopping at a great mall, or exploring the markets in the street, where you also will experience the culture of the people living in Bali and their local clothes, jewellery, antiques and so on.
Eventhourgh Bali is one of the most turist minded places in the world, it has still been able to keep on to its own unique culture, included its special form of Hinduism, Hindu Darma. It is very facinating to see that they are so passioned about their religion, almost beeing the root of the soul of Bali.
The city Ubud is considered the heartbeat of Bali, so if you are interested in museums and galleries with amazing art,this is the place for you to go. Also going outside of the main tourist places, you can explore many historical aspects like stone temples, palaces or rock walls with carved images. To book a Hotel in Bali, please click here:
Bali Hotels
To book a Hostel in Bali, please click here:
Bali Hostels