Cesky Krumlov On the Road

Cesky Krumlov, Czech Republic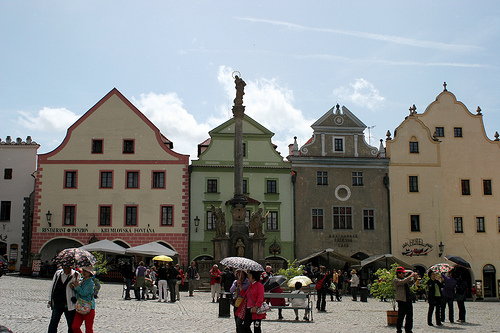 Cesky Krumlov, in the Czech Republic, is best known as a small medieval gem hidden in Eastern Europe's lush countryside. The construction of the town and castle started around the late 13th Century and being located on the Vltava River, was once an important trading route. Most of the architecture of the Cesky Krumlov dates back to the 14th century and covers many architectural styles, from Gothic and Baroque to Renaissance.

Since the town is known for its architecture you should check out the main architectural gem - the Hluboka Castle. The Castle (12th Century) has a theatre with spectacular scenery as well as a museum dedicated to the famous artist, Egon Schiele (who lived in Cesky Krumlov). There's also the St. Vit's Church and an old monastery called Zlata Koruna which means the Golden Crown. Sumava National Park is located near the city and is the country's largest national park. The Sumava Mountains run along the border and is a great thick forest to get lost in. You can find Alpine meadows, lakes, rivers and rich forests around Cesky Krumlov. Hike, swim and sail your summer away, and during the winter you've got a great place to ice-skate, ski and sled down the slopes.

Many restaurants are located along the river and near the castle – check these out for local cuisine. Local specialities are usually based on meats like pork, chicken or fish which are often accompanied by the staple - potatoes. There's usually a starter of soup with potato, garlic, chicken noodle, beef or sauerkraut. For dessert there's apple strudel or honey cake. And don't forget to wash it all down with pivo (beer). If you're not one for beer, wake yourself up with a kava (coffee).

At night, it's generally quiet since the town is small and the people are pretty relaxed. However, there are a couple of clubs, pubs and bars scattered throughout town. There's a very rich cultural scene, and even Hollywood has been taken in – there have been a few big films shot around the town.