Karlovy Vary On the Road

Karlovy Vary, Czech Republic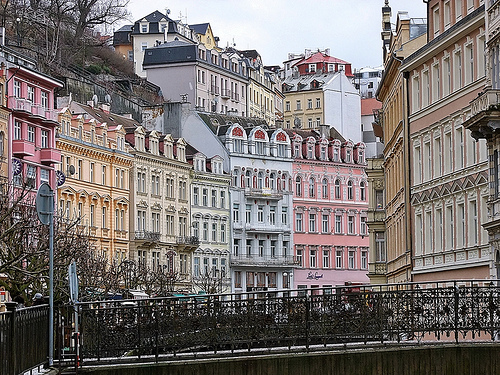 Karlovy Vary, also known as Carlsbad, is located in the western part of the Czech Republic. The city is known to be named after the Emperor Charles lV who founded the city after finding the hot springs. Karlovy Vary was founded in the 1370s. It's now famous for its hot springs and perfectly located on the Ohre and Tepla Rivers.

Since the main attraction of Karlovy Vary are the hot springs and the spas, than this would be the thing to see. These areas are very popular places to relax and purify not only your body but your soul! One of the largest and oldest spas of Europe is located in Karlovy Vary. The natural hot springs will wash away all the pain of travel and renew you for your next stop – whether it's Vienna, Prague or where ever you're headed. Vridlo is the country's warmest geothermal spring, with a temperature of 73 degrees. However there's a total of 12 other hot springs to choose from so plenty of time to get purified!

Old Louka Street, or Stara Louka, is one of the most popular shopping streets within the city offering high-end boutiques and elegant shops. There are a number of cafes and restaurants located along the street. The most famous products of this region is Becherovka, a herb liquer believed to help the digestive system. The region's craftsmanship of glass, porcelain and china is also well known.

For other sights there's the Jan Becher Museum that takes you on a tour of beautiful old cellars. Take a tour and get a taste of old liquor right where it was originally made. This is the place that the medicinal herbal liqueur is produced. There's a Church of St. Mary Magdalene which is located on a hill overlooking the town's hottest spring. Dvorakovy Sady (Dvorak Gardens) are well-manicured with scenic areas and a beautiful wrought iron gazebo. There's also the Diana look-out tower where you'll find beautiful views of the town. The tower is 35 meters tall.

For sweet-tooths, there are waffles filled with a sweet nut filling … yum. The best place to grab one is while strolling along the streets while they are still fresh and warm. And of course the liqueur of Karlovy Vary, also known to the locals as the "13th spring."

Nightlife is quiet, since most people come here to relax. It's not the place to go dancing all night. But hey, after all that relaxing in hot springs all day, why would you want to! Stroll along the streets, while away afternoons in cafes or restaurants. Chat up a local and see what they are up to in the evenings!