Port Alberni On the Road

Port Alberni, Canada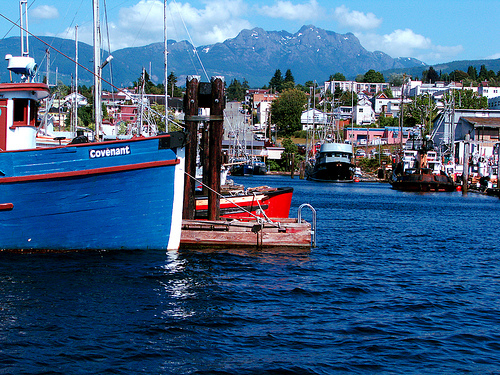 Port Alberni is fairly quiet but makes for a great natural vacation. It's surrounded by spectacular national parks, like the Pacific Rim Park. The town is close to the Broken Islands, Cathedral Grove, and Sprout Lake, offering a nice place to rest after hiking or visiting the area. The activities include hiking, boating, kayaking, fishing, swimming, biking, scuba diving, windsurfing, cruises, and whale watching.

During the winter you can watch dog sledding or go skiing in the Rocky Mountains. There are beautiful orchards in the summer and fall and always gift shops and galleries as well. This town is known as the 'Salmon Capital of the World.' There is a Salmon Festival, and during this season you can watch the Salmon jump up stream.

Needless to say the salmon and seafood is amazing. If that's not to your taste, for the most part Port Alberni offers a casual dinning scene and is full of small cosy restaurants. There are some different international foods, like German, Chinese and Greek.

At night there are some bars such as the Westwind Pub, Bar & Grill and the Waters Edge Pub & Bistro. For evening shows and performances try the ADSS Auditorium. However, if you find the nightlife here slow, try taking a trip to Vancouver Island nearby.

Fat Salmon Backpackers is the place to sleep, with its clean rooms and friendly staff. It is a beautiful funky outlook spot of the surrounding nature. There is a large communal area and kitchen, along with high speed internet if you have a computer with you.