Puerto Iguazu On the Road

Puerto Iguazu, Argentina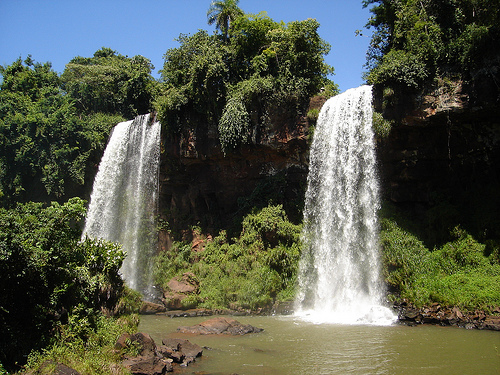 Puerto Iguazu is a charming town where the stunning Iguazu Falls are only moments away. There are about 30,000 people who live in the city of Puerto Iguazu, but the real fame of the area is without doubt, the Iguazu National Parks and its Iguazu Falls. These falls are one of the Seven Wonders of the World - a fact that you won't forget standing at the bottom of these amazing falls.

The Iguazu National Park is rich with flora, including ferns, cactus, bamboo, ficus, ancient rosewood trees, just to list a few examples. There are various animals that you can spot along the way such as frogs, parrots, monkeys, butterflies, toucans and other rarer animals such as jaguars and pumas that roam the jungle.

The Museum Mborore displays handiwork mostly produced by old Indian tribes. There are such things as ceramic and woven fabrics on display. There's also a little library to dig deeper into learning about the culture of Puerto Iguazu. The Science Experimental Museum is for all you science lovers. This museum has a theatre on the first floor and the museum is located on the second. If you would like to do a little shopping there is a street market called Puerto Iguazu Arts and Crafts Market where you can make some local purchases. Also try walking in the Foz do Iguacu neighbourhood where you can see the beauty of the city with cafes, restaurants, etc. For a more relaxing time try lying out on San Martin Island which is perfect for swimming and sunbathing. Also I would suggest visiting Hito Tres Fronteras (Three Boarders Milestone) which has a magnificent view of three countries--- Argentina, Brazil and Paraguay.

For the night, I would check out Avenida Tres Fronteras and Costanera which offer a couple bars. Along Brazil avenue there are a couple places to drink and dance. There is the Cuba Libre bar which has some good Latin music for dancing and there's also a more modern place called Yoko Ono that's a sweet place to relax and sip on a beer and chat up some locals.