Sao Paulo On the Road

Sao Paulo, Brazil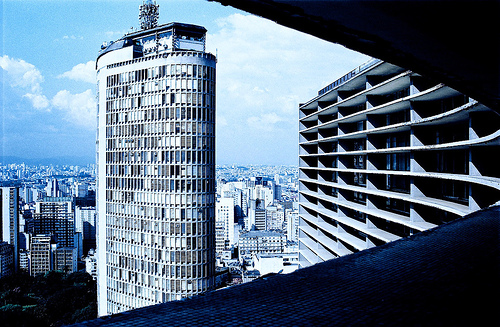 For those who appreciate the dynamism of a big city Sao Paulo will be such an experience! But here it goes a precious advise: you may visit it with some crazy native guy, the so called "paulista", otherwise the third biggest city of the world will swallow you up! I'll explain: we are not talking about a typical turistic city, the most "visited" sights are just a few and they don't represent for sure what you really should know about Sao Paulo. "Paulistas" are extremely workaholic and the little spare time they have is used to enjoy life to the full, in the true Brazilian way.

The serious grey of its buildings and walls are all mixed over with the colorful graffittis that surround the city in a poetic attempt of bringing some art and poetry among the traffic lights. The city has a strong artistic vein so if you simply buy the daily newspaper you will have the opportunity of choose one between all sort of exhibitions, dance performances, musical and fashion shows, theaters and cinemas. Every year, more than 90,000 events are located here, one event every 9 minutes. Be sure to arrive to the cinema one hour before the film starts in order to get a ticket! And if it's raining: 2 hours before. And yes! All foreign films have portuguese subtitles so you can feel at home for 90 minutes unless you wanna try to adventure yourself and watch a brazilian release: cinema industry has got better and better since when nice cultural supporting laws were approved.

Night life strikes! Imagine what 20 million of brazilians do after they've spent all day working! It's a matter of honour! Just think about one type of music you would like to listen to or to dance and you have it! Eletronic and hip hop scene are very well represented, in English, Portuguese or Japonese! Besides all brazilian rythyms you have never heard like forro, lambada, bossa nova, maracatu, mangue-beat, samba or even the daring "funk carioca". Not knowing how to dance is not an excuse! Foreigners are always welcome everywhere and I'm sure you'll find some nice girl/boy willing to teach you! Not having money is also not a problem, in the cheap bars known as "boteco" you can have a great time with friends drinking and eating really cheap.

It's also worth coming to Sao Paulo just to eat. But don't ask what is the typical Sao Paulo's dish! Because there's none! With the extensive immigration the cultural and gourmet identity of the city is all cultures! People from all over Brazil and the world have come in search of work bringing their own cooking traditions Food from Bahia, Rio de Janeiro, Rio Grande do Sul, Santa Catarina are especially popular. Sao Paulo has the largest Japanese population outside of Japan, matching the Japanese cooking traditions with the high quality culinary that Brazil is famous for, creating arguably the best Japanese cuisine in the world. Their neighbourhood is called "liberdade" (freedom) and it feels like in Japan: even billboards are written in Japanese! Paulistas also love pizza and pasta. You can almost say the half of the population has Italian origines due to the Italian immigration of nineteenth century. If you are lucky you can enjoy one of the traditional Italian parties held in the Italian zone called "Bexiga" or simply have a seat and eat in one of the nice "cantinas" (Italian restaurants) of the city. All budgets! Even really low budgets won't be a problem: you go to a "padaria" (bakery) and order the popular "PF, prato feito" ("ready plate"). This is what you get: rice, beans, a beef and salad! Hapes of it and you'll only pay something around 6 reais (less than 2 dollars?). Smile.

And that's it, man! Be sure to put some sweaters and an umbrella in your back-pack because Sao Paulo is not that tropical photo with a girl in bikini. It's cold, grey and it rains. But once you know it you can't have enough of it!