Washington DC On the Road

Washington DC, USA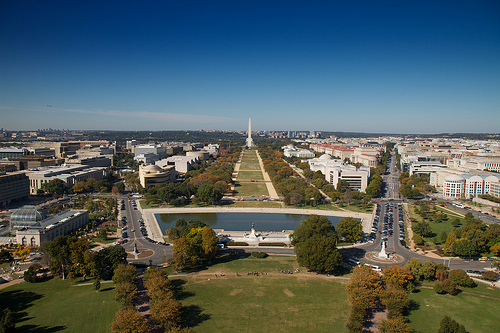 Washington, D.C. is a good starting place for learning about America. Many people often travel to D.C. in order to learn or try and make a change in the way the government is run. Protests are frequent and happen on a grander scale than any other place with in the U.S.A.

If I were to take a day to explore Washington, D.C, I'd start at the Reflecting Pool which is a man made body of water located between Lincoln's Memorial and the Washington Monument.

After that, I would travel to the White House in order to take a tour of one of the most powerful buildings in America. Be warned: there is a long wait if not booked previously. To waste some time, there's a park nearby. The parks offer a nice escape from the bustle of the city, where you'll find the Vietnam Memorial. After exiting the White House, you'll need to make a choice between some great museums.

There are a number of museums located along a street in between the White House and the Washington Channel. They include the American History, Natural History, National Gallery of Art, and National Air and Space Museums. I'd recommend making a stop at the two that most appeal to you and then travelling on towards Chinatown, Foggy Bottom, or the U.S. Capital. If you're not one for museums, then there's a mall in the neighbourhood where you'll find clothes and souvenirs. The U.S. capital is where the Senate and House of Representatives work on the American law.

Before leaving the city I would make sure that you take some time to walk through the city, picnic in the park or along the bay, and take pictures in front of the White House. Washington D.C. is an excellent place to visit year round, but keep your eye out for protests and don't forget about the 4th of July.

Where to eat: Chinatown is a good place to walk along the streets and to eat good Chinese food. Try various places around George Washington University and walk around town. Chances are you will find a decent restaurant along K or 7th Streets.

Where to party: Foggy Bottom is where George Washington University is located, so there are plenty of bars, restaurants, and places to walk along. Try 7th and K Streets - there are plenty of restaurants, clubs and bars. Along K Street you can find Ozio, The Bayou, Chadwicks, Corduroy, Teatro Goldoni, DC Coast and more.

Where to sleep: American Youth Hostels-HI-USA DC are next to everything you need, from the White House to the nearest museums and great nightlife. The hostel is safe, clean, spacious, air-conditioned, and offers a lounge room and game room. There's also Hilltop Hostel, 50 meters from the redline metro and priced starting from 22$. There is no lockout.