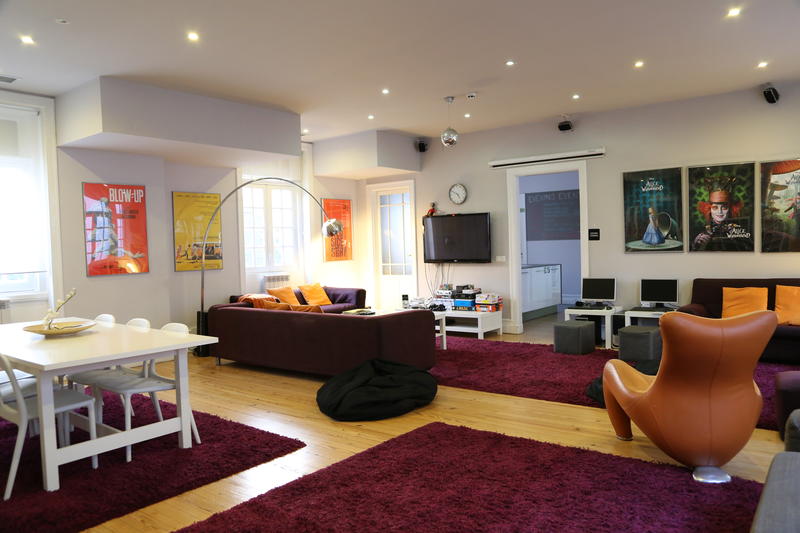 Rivoli Cinema Hostel Informations
We welcome all the backpackers, travellers and guests who search for the unique experience of staying at the first cinema hostel in Portugal, right in the centre of Porto.

Enjoy our spacious rooms, the large and well equipped common areas and the exceptional terrace in a prize-winning cinema atmo
Find the small street between Av. dos Aliados and D. Joao I square (two horse statues), following Rua Passos Manuel.

Look for the red door (n83) facing the side door of the Rivoli Theater, in the Optical Store light gray building.

By metro:
Arriving from the Airport, you have to take line E to Porto. You can leave in Trindade station, and walk downhill through Aliados Avenue for 8 min, or you can change to line D, leave in the Aliados station (1st station after Trindade) and take the D. Joao I exit in the subway. At Aliados Avenue with the town hall on your back, take the first left to Dr. Magalhaes Lemos Street, a few meters ahead you will find the Hostel in the red door at your right.

By train:
Arriving in Campanha station (from Lisbon, Coimbra, etc) make sure your train ends in S. Bento Station. Otherwise, you will have to change to another line (normally number 2). The hostel is 200 m from S. Bento Station. If you take Bonjardim Street, when you see the D. Joao I Square, the hostel will be at the street on your left. Alternatively, if you are walking uphill through Aliados in the town hall direction, you will find us at the second street on your right, the first after Sampaio Bruno Street.

By bus:
If you are coming to Porto from an international line you will arrive at Internorte station at Praga da Galiza. Catch bus number 200 till Praga da Liberdade stop. Then walk uphill through Aliados in the town hall direction, you will find us at the second street on your right, the first after Sampaio Bruno Street.
Coming by Rede Expressos, when you get out the station turn right and go across the Batalha Square, continue through Santa Catarina Street, until you reach Passos Manuel Street. Turn left and continue downhill until you reach D. Joao I Square (it has two horse statues), then you will see the Rivoli Theater (large building painted in light gray), the hostel is right across the Street, in front of the lateral door of the Rivoli Theater.
The neighbourhood of Aliados is the central axis between the picturesque Ribeira district, the Cathedral (Se) and the vibrant nightlife of the Piolho area. You can reach everything by foot in less than 10 minutes. The most important references in the city are within walking distance, such as Aliados Square, Sao Bento Train Station, the Cathedral, Clerigos Tower, Lello Bookshop, Port wine cellars and the Douro River.
If you need help, please call us: +351 220174634 Check-in: 14.00. Check-out: 12.00. (Groups: 1100). Late check-outs shall be charged for an extra day. From the 1st of March 2018 the City of Porto charges a Touristic Tax of 2€ per person and per night. Guests under the age of 13 or with disabilities are exempt of this tax. All reservation made after the 1st of March of 2018 are subject to the tax. We have a 48hr cancellation policy. Late cancellations and no-shows shall be charged the equivalent of the first night's accommodation. Group cancellation policy: There is a 10-day cancellation notice. Late cancellations and no-shows shall be charged 50% of their booking, or 100% of the booking in cases of one-night bookings. NOTE: We do not accept credit cards! If you have a group booking, we will always try our best to put you together in the same room, but keep in mind this is a hostel and that's not always possible!
Informations about Rivoli Cinema Hostel
We welcome all the backpackers, travellers and guests who search for the unique experience of staying at the first cinema hostel in Portugal, right in the centre of Porto.

Enjoy our spacious rooms, the large and well equipped common areas and the exceptional terrace in a prize-winning cinema atmosphere!

We offer four-bed dorms and double rooms with shared bathrooms. Rooms include free bed linen and feature free heaters in the winter and free fans in the summer. The dorms have free individual lockers, while the double rooms can use our free safe deposit box. The double rooms come with an optional free baby bed for children up to two years of age.

We've carefully decorated all the common areas and rooms, making you feel at home with your newest big family. You can stay in a room themed after your favourite movie or director – we've got Tim Burton, Tarantino, Francis Ford Coppola, Almodovar, Jean-Pierre Jeunet, Godard, Manoel de Oliveira, Spielberg, Ridley Scott, Mira Nair, David Fincher, Stanley Kubrick, Sofia Coppola and more!

Our common areas include a fully equipped kitchen, a dining area and a large lounge where you can relax, have a drink, read, play video games on our PlayStation and Wii or watch satellite TV or one of our 300 DVDs.

If you prefer to be outside, we have an outstanding 150m² terrace with an inflatable swimming pool during the summer, where you can sunbath, shower, BBQ, listen to music, party or just socialise with the others guests. There's even a former greenhouse converted to a small gym where you can get fit doing some cycling or elliptical exercises.

Our renovated facilities, 24hr availability, cinema theme and friendly multilingual staff create an especially cosy and comfortable atmosphere. We have free Wi-Fi, free internet, free maps and travel advice, free walking tours and free luggage storage on arrival and departure. Don't forget our free continental breakfast and all-day coffee and tea!

Towels are available to rent for €1.50 and we also have a €5 wash-and-dry laundry service. Car parking is available for €9 per day.

We're set in a 1930s Art Deco-style building, full of character itself. It was designed by Eng. Francisco Xavier Esteves, the same designer as for the amazing Lello Bookshop (considered the third most beautiful in the world), to serve as his family home. Although it preserves the charm of most original elements, it was carefully renovated to provide you high standards comfortable accommodation with updated infrastructure.

We're the best located hostel in Porto. We're right in the Aliados neighbourhood in Porto's historical centre, where you can find streets full of monuments, restaurants, cafés, esplanades, shops, supermarkets and touristic info. We're just next door to the metro (underground/tube), train, bus, taxis and historical tram.

Hope to see you soon.