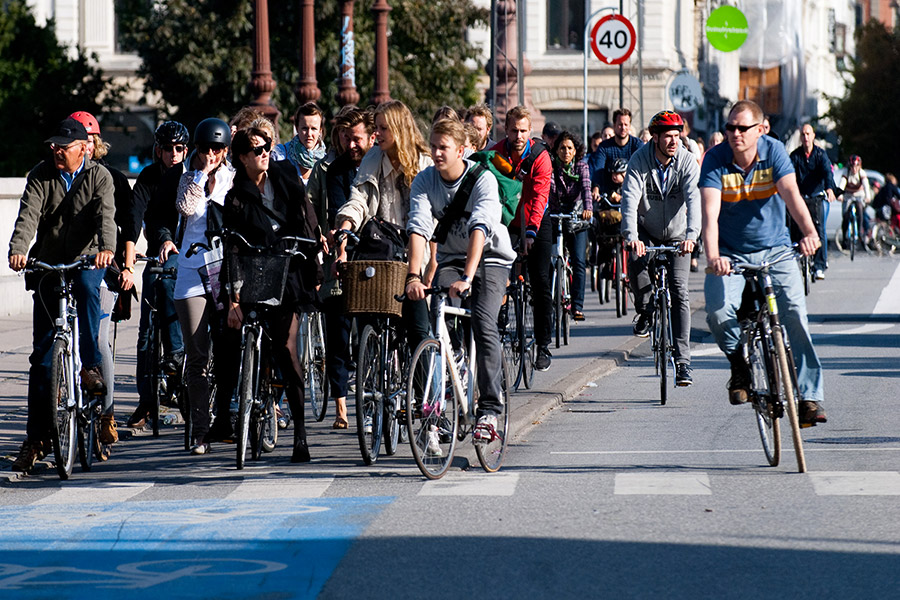 from infohostels.com © Wikimedia Commons
World's Best City for cycling
People in Copenhagen use the bicycle all the time, in every weather conditions, sunny rain snow. The bike for fun to go for shopping and also to go to work.
They are cycling also to take kids to school or to go to a park for a picnic with friends in a nice sunny day.
Use the bicycles is what Copenhageners love the most. They can keep their self healthy, athletics, in a good shape and best than all is cheap to don't say free at all.
Bicycle is for everyone, any class of people will ride on in a daily basis.
All roads and sign are cyclist friendly. 382 km of tracks for bicycle hops people to go fast and make Copenhagen a friendly sustainable envairoment city. Someone sustain that in Copenhagen there are more bikes than inhabitants
To experience Copenhagen you must take a bicycle and go around as local. Enjoy the view and all the beautiful things that the city have to offer. The rush hrs are not reccommanded because local go fast and this can create you some trouble. but if you are able to take in a slow hrs you will enjoy it a lot.
Many rental bicycle shop available in town but also most of the hotel provide the service to rent at very low rate. Most Hotels also offer the service for free to their guests.
A place that you cannot miss once in The world's first bike city is The Bicycle Snake.
The elevated bike bridge The Bicycle Snake - in Danish Cykelslangen will cross the harbour from Vesterbro to Islands Brygge.
Copenhagen has been ranked the world's top cycling city several times, last in 2019. New York And that other cities around the world, see Copenhagen a s a model for inspiration. Copenhagen is into bicycle that there is now a word to describe how to create a city bicycle friendly, that word is : "to copenhagenize".
The numbers that accompany the bicycle in the capital city of Denmark are absolutely astonish:
49% of trips are made by bicycle
more bicycle than cars are registered in the city
near 1,5M km were cycled in 2018 per day
382 km of cycle tracks
40k ciclisti passing the Dronning Louise's Bridge everyday
25% of family with kids own a cargo bike to carried around the kids
What makes Copenhagen the World's Best City for cycling?
is a friendly

is flat city, easy also for first time

almost everyone use a bicycle
So if you are ready to discover a city, keep your body in good health or shape, travel green Copenhagen is the place to be.